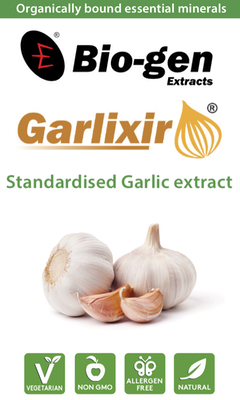 Garlixr
Garlixr is a standardised Garlic extract produced using a proprietary lipid extract process combining the traditional Ayurveda system with Bio-Gen's new age, state of the art manufacturing technology.
Important to benefits to note about Garlixr include:
Solvent free
Taste and odour masked
Boosts immunity
Supports heart health
Reduces elevated blood pressure
Addresses Hyperlipidimia
Vegetarian
non-GMO
Allergen-free
Natural
Garlixr is more bioavailable.  It contains a full profile based on a LCMS/MS analysis of 12 identifiable sulfur-containing organic compounds.
Traditional and clinical studies are available to show the benefits of using a standardised garlic extract.
Garlixr can be used in capsules and tablets.