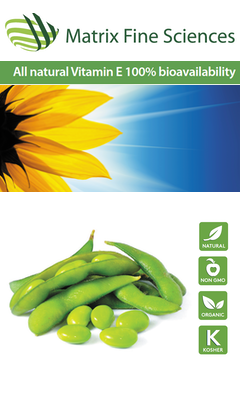 Matrix Fine Sciences
Matrix Fine Sciences produce a range of products and are considered the specialists in the extraction of natural vitamin E and phytosterol from 100% Non-GMO sunflower, soy and rapeseed.
Their products are 100% bioavailable to the body, compared to synthetic vitamin E which has a mere 12.5% bio-availability.
Matrix Fine Services has global certification and a complete range of identity preserved tocopherols and their derivatives in both oil and powder form.  They offer natural vitamin E (available in Acetate and Succinate) natural mixed tocopherol and natural phytoterols.
Categories: Cosmetics, NUTRACEUTICAL
Sector 1:Multivitamins
Sector 2:anti-aging
Sector 3:healthy skin and hair, lipid oxidisation natural antioxidants and immune function
Supporting Link(s):


https://matrixfinesciences.com/