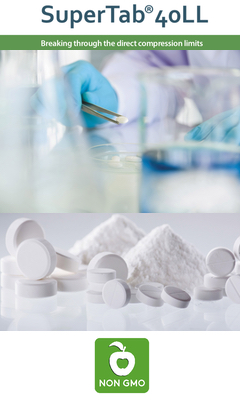 SuperTab® 40LL
SuperTab® 40LL is a soluble, highly compactable, highly flowable excipient, creating better ways to deliver medications.  It is a lactitol monohydrate, combined in an agglomerate which allows for this soluble excipient to provide compaction previously only provided by insoluble plastic materials such as microcrystalline cellulose.
SuperTab® 40LL's benefits include:
Highest carrying capacity of market excipient products
For challenging direct compression formulations with higher drug loading
Dissolves within 10 minutes
It is non-GMO and available for use in mini-tablets and challenging formulations.
SuperTab® 40LL is breaking through the direct compression limits!