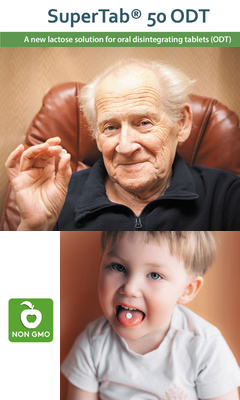 SuperTab® 50 ODT
SuperTab® 50 ODT is a highly consistent, monohydrate lactose. Due to its porous nature, a fast disintegration time can be established.  It has a number of significant benefits.  These include:
A 100% inert, stable, soluble and palatable excipient
Has a mildly sweet taste as it is a disaccharide excipient
Pleasant mouth feel
Provides a solution for orodispersible formulations, helping to deliver medication to paediatrics and geriatric patients, or to those who suffer from Dysphagia
Some other interesting facts to note:
Free flowing
Compactible
Low friability ensuring consistent performance on tablet hardness over time
Low moisture uptake
Powdery grittiness is prevented due to primary particle size
Rapid disintegration resulting from spray drying
Sensory testing supports the oral disintegrating claims of SuperTab® 50 ODT.