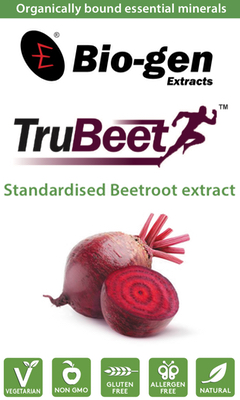 TruBeet
TruBeet is a standardised Beetroot extract that provides the highest concentration of all-natural nitrates solely derived from Beetroot.
It's main benefits include:
Endurance and performance through dietary nitrates
Supports heart health
Promotes nitric oxide circulation in the blood
TruBeet is manufactured using a proprietary process to obtain a high-potency extract with minimal oxalate content.  There are no added excipients or preservatives.  TruBeet is Rich in minerals, solvent-free and 100% water soluble.
Important things to note:
6% nitrates
minimal oxalate activity
vegetarian
non-GMO
gluten-free
allergen-free
natural
One teaspoon of TruBeet is equivalent to 6 beetroots.
Available for use as a powder.
Categories: Food & Beverage, Men's Health, NUTRACEUTICAL, Sports supplements, Women's Health
Sector 1:Sports nutrition
Sector 2:Men's and Women's Health
Sector 3:Food & Beverage
Supporting Link(s):


https://choosegoodhealth.blog/2018/09/19/product-of-the-month-trubeet/