Winter New Product Releases 2017 include ingredients to:
Reduce stress & fatigue

  – backed by 10 clinical studies
Assist blood glucose management – mulberry leaf extract
Focus on men's health  – prostate support &  increase testosterone
Support weight management – vegetable fibre glucomannan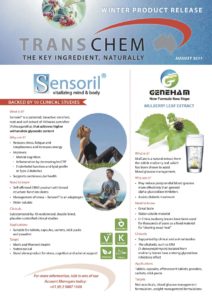 Click HERE to download our Winter New Product Release 2017.
Our main feature ingredient is Sensoril®, which is a patented, bioactive-enriched roof and leaf extract.  It is backed by 10 clinical studies and has been shown to reduce stress fatigue and sleepiness.  It is organic and water soluble and can be used in a variety of ways, including as a stand alone product.
MulCare by Geneham is a natural extract from the edible mulberry leaf, which can assist in blood glucose management  Supported by studies, it has been used for thousands of years in China.
We have two exciting releases to assist in the area of men's health:
Prosman is derived from the stem of the Prunus domestica herb and has clinically evaluated benefits for men suffering from Benign Prostatic Hyperplasia.
Furosap is a natural ingredient which has been clinically shown to increase testosterone levels as well as increase sperm count, mental alertness and mood.
GlucoMax by AuNutra is a vegetable fibre glucomannan which is well researched and can assist in reducing weight as well as benefit cholesterol and triglyceride levels.
We also tell you about AyuFlex®, one of our most in demand recent releases, which supports healthy joints.
Download our Winter new product release here
If you would like to discuss any of our featured products or those in our online product library, or if you would like us to source a particular ingredient, please contact one of our Account Managers on 02 9887 1688.
If you would like to subscribe to our regular new product releases, please view the subscribe feature on our home page.