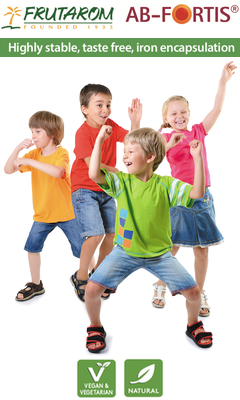 AB-Fortis®
AB-Fortis® is a Micro-encapsulated high concentration tasteless (40% iron) iron salt.  It is produced by Frutarom using a patented manufacturing process, which provides stable encapsulation that leads to a minimal release of free iron in the food matrix.
The main advantage of AB-Fortis® is that it is taste-free, meaning no metallic taste.  It is also:
Stable in high pressures and temperatures
Absence of gastrointestinal side effects
High bioavailability
Allows the fortification of foods with iron without changing the appearance, palatability or taste
The benefits of AB-Fortis®  is supported by published scientific research including a human clinical study.
It is available as a powder that is certified as natural, vegetarian and vegan.
Categories: For children, NUTRACEUTICAL, Pregnancy, Sports Nutrition, Women's Health
Sector 1:Nutraceutical
Sector 2:Food & Beverage
Supporting Link(s):


https://www.frutaromhealth.com/health-benefits/ab-fortis/

https://abfortis.com/

https://www.frutaromhealth.com/wp-content/uploads/2018/05/AB-Fortis-Flyer-2018.pdf