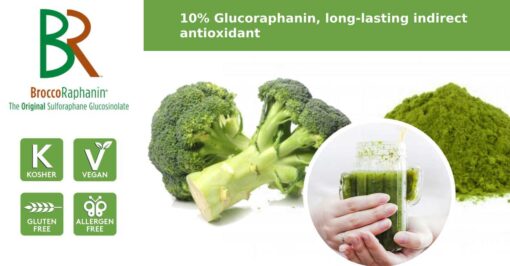 BroccoRaphanin®
BroccoRaphanin® is a broccoli extract which is a long-lasting indirect antioxidant ingredient intended to help provide immune system support and protection against free radicals.  It is the original sulforaphane glucosinolate.
The advantages of using it include:
Glucoraphanin content of 10%.
Supports and improves health through:

Detoxification of the body
Anti-inflammatory properties
Indirect antioxidant
Stimulates the body's natural defence

Kosher
Vegan
Gluten-free
Allergen-free
BroccoRaphanin® is produced using a patented proprietary process focused on the conservation of essential constituents.
Research hights the conversion of the precursor glucoraphanin into sulforaphane.  The chemoprotective effect ascribed to sulforaphane is well documented.
Categories: Dietary Supplements, HERBAL POWDER, NUTRACEUTICAL, NUTRACEUTICAL, Superfood powder
Sector 1:Nutraceutical
Supporting Link(s):


https://www.frutaromhealth.com/health-benefits/brocco-raphanin/