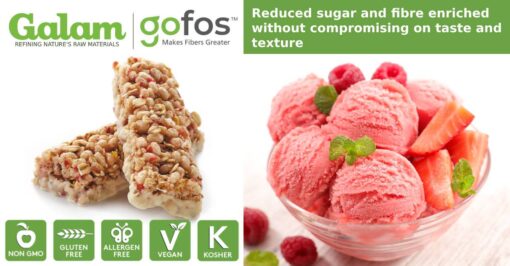 Gofos™
Gofos™ is a slightly sweet soluble prebiotic fibre with a high purity of short-chain fructo-oligosaccharides.  Found naturally in small amounts in various vegetables and fruits. It is produced from beet sugar by a proprietary unique enzymatic process.
It is manufactured by Galam, a world-leader for sugar-based crystalline fructose with production sites in Israel, Germany, and Spain, as well as a presence in over 50 countries worldwide.
The main advantages of using gofos™ in your products include:
It is a good source of fibre
A prebiotic that helps feed the good
Bacteria in the intestine
Help for sugar reduction in formulations
Synergy taste effect with other sweeteners
Contribute to regular laxation
Helps promote nutrition absorption
Enhance immunity
No compromise on the taste and texture of your product
It has been certified as vegan, non-GMO, allergen-free, gluten-free and kosher.
Gofos™ can be used in cereals, bars, dairy, ice cream, dairy substitutes, bakery products, confectionery and fruit preparation.
Download our TransChem flyer with more information
Categories: bakery, bars, cereal, confectionery, dairy, dairy substitutes, Food & Beverage, fruit preparation, ice creams
Sector 1:Food & Beverage
Supporting Link(s):


https://gofos.com/family-health/