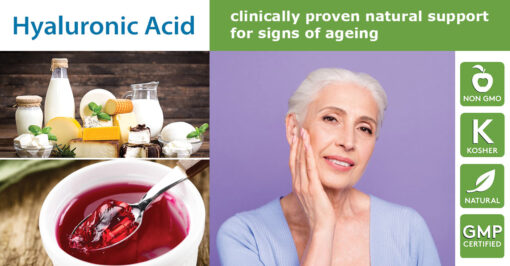 Hyaluronic Acid (food grade)
Hyaluronic Acid (food grade) is a type of mucopolysaccharide that is highly viscous and is used as a supplement in foods and beverages.  HA contains a variety of properties, including water retention, lubricity, viscoelasticity and biocompatibility, making it widely used in food.
There are a number of advantages to using Hyaluronic Acid including:
Can promote joint health
May improve skin moisture and elasticity
Perfect in combination with collagen for skin applications
Suggested for hair, skin and nail formulations
Available in low and high molecular weight conversions
Growing global reputation for its use in food
Hyaluronic Acid is available from TransChem as an unbranded product which is natural, non-GMO, GMP certified and kosher certified.
The application for its use range from beverages to jelly, dairy products like ice cream and superfoods.  .
This is a clinically proven support for ageing as reduced amounts of hyaluronic acid can cause skin wrinkles, arthritis, plus disease and arteriosclerosis.
Categories: beverages, dairy, Food & Beverage, ice creams, jellies, superfoods, Supplement
CAS - Nr:9004-61-9
Health Benefits: Supplement, Skin wrinkles, Arthritis, Arteriosclerosis
Supporting Link(s):


https://www.maruha-nichiro.co.jp/food/english/ffcd/product/pro00200.html

https://www.lateenchem.com/Hyaluronic-Acid/Hyaluronic-Acid-Material-Powder-Food-Grade-12-1.htm