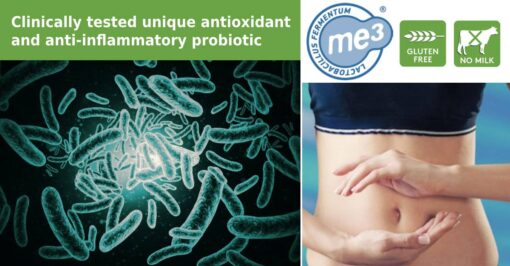 Lactobacillus Fermentum ME-3
Lactobacillus Fermentum ME-3 is a probiotic strain with antioxidant and anti-inflammatory properties that differentiates it from others in the Australasian market.
This strain of bacteria was first isolated in 1995 by scientists of the University of Tartu, Estonia, from a healthy one-year-old Estonian child.  The properties it exhibits are:
Glutathione production and regeneration
Stimulation of paraoxonase production
Anti-inflammatory and K anti-oxidative effect
Anti-bacterial effect: E.coli, Salmonella and Shigella
Regulation of plasma lipid profile
The benefits of Lactobacillus Fermentum ME-3 include:
One of the very few probiotic strains to contain a complete enzymatic system
Produces antioxidant effects
Reduces borderline high LDL-cholesterol and triglyceride levels
Decreases inflammatory blood markers
Strong resistance to the gastro-intestinal environment (bile acids, low pH) and a lectin profile suitable for adhesion to gut epithelium
There has been extensive studies and tests including several published human clinical trials since 2001, focussing on the functionality and beneficial properties.  Contact our account managers for further details.
Available for use in capsules and beverages, Lactobacillus Fermentum ME-3 is gluten-free and dairy free.