Veterinary Pharmaceuticals & Animal Health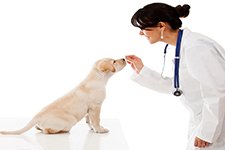 The Veterinary pharmaceutical industry is a segment of Australian pharmaceuticals that deals with medicines, drugs, vaccines, medicinal chemicals and serum for animal health; including medicinal and biological chemicals in food additives for animals. Included in the animal group is livestock, poultry and pets.
As with human drugs, animal drugs also contain active and inactive constituents; active being the ingredients that have pharmacological effects for the health of an animal and an inactive ingredient, known as the excipient.
APVMA (Australian Pesticides and Veterinary Medicines Authority) defines active constituents as 'substances in agricultural or veterinary chemical products that are primarily responsible for a product's effect. The active constituents must be approved before use by the veterinary industry. The list of approved active constituents is updated by APVMA on a regular basis.
Similar to human medication, veterinary pharmaceuticals can be antibiotics, anaesthetic, metabolic, cardiovascular, and many medications for reproductive, anti-parasitic, anti-inflammatory or pain. They are available in many forms – liquid, pills, powder, injections, drenches, feed additives, or boluses.
Trans Chem has an extensive network of overseas suppliers, some exclusively, and attend all International Trade shows constantly sourcing new and innovative products and suppliers, so if you can't find the raw material you need in our Product Library, contact us and we WILL source that product for you.
Aside from APIs, Trans Chem actively sources Amino Acids & Vitamins, Chelates & Minerals, Cosmetics & Personal care ingredients, Excipients, Food & Beverage ingredients, Stockfeed & Animal Nutrition, Nutraceutical powders & fluids, Veterinary Pharmaceuticals & Animal Health, Herbal Extracts and other key ingredients.