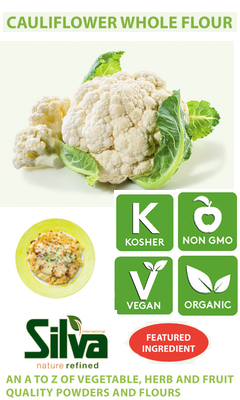 Cauliflower whole flour
Silva International provides dehydrated vegetable, herb and select fruit ingredients in any cut, from the finest flakes to dices, granules, powders and blends. They specialise in processing ingredients to meet customer's specific cut, size and blending requirements.  Cauliflower flour is one example of the ingredients featured by TransChem.
Field-fresh cauliflower is sorted, washed, trimmed, blanched, and air-dried. Then, various cleaning, sorting, and food safety steps are conducted prior to milling.
Cauliflower whole flour is an excellent source of natural antioxidants including carotenoids, ascorbic acid and tocopherols.  It contains a wide range of minerals and vitamins (especially A and C).
Health benefits include:
maintaining general well-being
healthy digestion
reducing the risk of cancer and heart diseases
Cauliflower whole flour can be used in bakery goods, soups, seasoning, salads, sauces, chips, snacks, pasta and rice products.
Category: Food & Beverage
Sector 1:FOOD & BEVERAGE
Supporting Link(s):


https://silva-intl.com/products/cauliflower