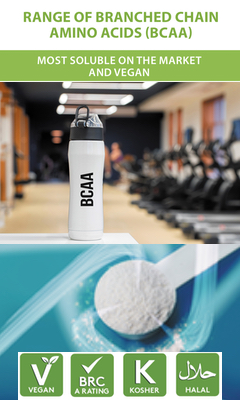 Branched Chain Amino Acids (BCAA)
Branched Chain Amino Acids (BAA) is a plant-based group of three essential amino acids (which the body cannot make) with a molecular structure branching to one side; Leucine, isoleucine and valine, with a ratio of 2:1:1.  It is the most soluble BCAA on the market and is vegan.
The advantages of using this Branched Chain Amino Acid (BAA) includes:
Reduces fatigue and tiredness during exercise
Boosts muscle gain and recovery after exercise
Dissolves faster than other BCAA's
Clear solution transmittance ≥ 95%
Delicious taste and available in multiple flavours
White and shining colour
This BCAA is suitable for sports drinks, solid instant formulas, functional foods.  It has a BRC rating, is kosher and halal certified.