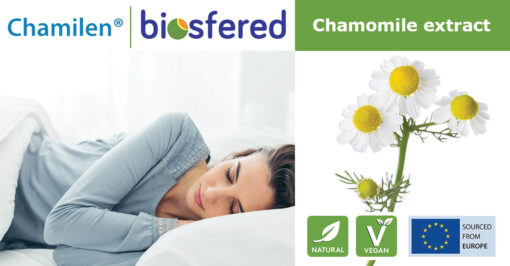 Chamilen®
Chamilen® is an extract from Matricaria chamomilla (annual herbaceous plant) flowers with applications in natural medicines to relieve gastrointestinal disorders and sleeping problems.  More broadly known as a chamomile extract.
The advantages of using Chamilen® relate to how it has been traditionally used in western herbal medicine to:
relieve symptoms of indigestion
calm restless nervous energy
support the nervous system
relieve sleeplessness
Chamilen® is available as a powder and an oil.  It is certified as natural and vegan.
It is produced by biosfered using an environmentally friendly supercritical carbon dioxide extraction process and a patented low-temperature drying process.  It is high in phenolic compounds and terpenes.