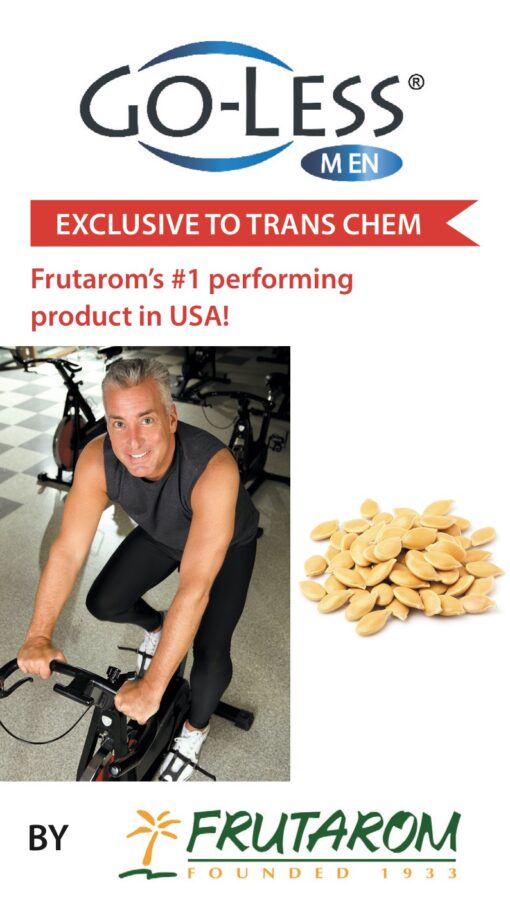 GoLess® Men
Go-Less Men is a natural herbal, oil-free extract from an exclusive variety of defatted pumpkin seeds, with contract cultivation.
The advantages include:
Scientifically proven to decrease urination frequency, day and night and reduces incontinence episodes in men
It is manufactured using a proprietary decontamination procedure "EFLA® Hyperpure" to ensure increased stability, purity, solubility and no rancidity.
In men with BPH, pumpkin reduces prostate-induced urinary symptoms by supporting the relaxation of the bladder wall and slowing down the growth of prostate tissue
May help to relax the bladder wall which causes an overactive bladder
Natural
non-GMO
Studies support the efficacy and safety of Go-Less® in addressing the cause of an overactive bladder and urinary incontinence as well as improving its symptoms.
A new pilot study (published online in the Journal of Medicinal Food) in humans shows it alleviates urinary symptom frequency and severity in men with Benign Prostate Hyperplasia (BPH). The study demonstrated the positive effects in just 4 weeks of supplementation and there were no reported side effects.
Categories: Dietary Supplements, NUTRACEUTICAL
Sector 1:Nutraceutical
Supporting Link(s):


https://go-less-men.com/

https://www.liebertpub.com/doi/10.1089/jmf.2018.0106

https://transchem.com.au/product/go-less/