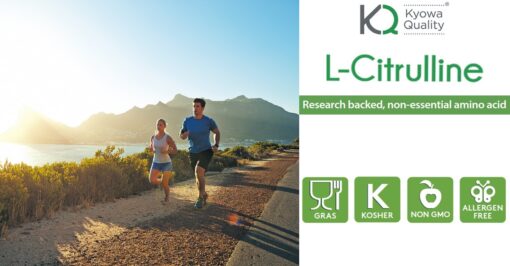 L-Citrulline
L-Citrulline is a free amino acid in the body that plays an important role in nitric oxide metabolism and regulation.  Produced by Kyowa Quality it is sourced from the USA.
The advantages of L-Citrulline include:
It is an efficient way to increase blood arginine level
Increased production of nitric oxide promotes vascular dilation which improves oxygen and blood circulation throughout the body
Supports the relief of muscle fatigue
Improves athletic performance, body building and increases energy
Can provide antioxidant and heart protection action
Can be used in the treatment of dementia, erectile dysfunction, diabetes, sickle cell disease, fatigue, hypertension and muscle weakness
It is Gras certified
Kosher
non-GMO
Allergen-free
Available as a powder, and easily soluble in water, it is also worth noting there are also no artificial colours or flavours used in L-Citrulline.  It is non-hygroscopic, highly stable, and mild taste make it suitable for use in a variety of formulations.
Talk to one of our account manager for information about the studies available to support the benefits of L-Citrulline.
Categories: Dietary Supplements, free amino acid, Heart Health, NUTRACEUTICAL, Sports Nutrition
Sector 1:NUTRACEUTICAL
CAS - Nr:372-75-8
Health Benefits: Dementia, Erectile dysfunction, Diabetes, Fatigue, Improves athletic performance and body building
Supporting Link(s):


https://kyowaquality.com/ingredients/l-citrulline

https://www.webmd.com/vitamins-supplements/ingredientmono-1245-l-citrulline.aspx?activeingredientid=1245&activeingredientname=l-citrulline