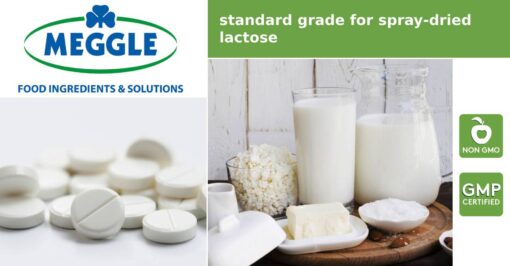 Meggle
Meggle produce more than 20 specialty grades of lactose.  These include:
Meggle has over 70 years experience creating a pharmaceutical grade quality lactose range. Lactose is screened dried and further processed to obtain different grades; milled, agglomerated, spray dried, anhydrous, sustained release micronized and co-processed
The advantages of Meggle lactose include:
Used as diluents in dry and wet granulation processes
High storage stability
High batch-to-batch consistency
Enhance flavours
Narrow particle size distribution
Good compactibility
Superior flowability
Meggle is suitable for both pharmaceutical and nutraceutical use and has certification as non-GMO and GMP.
Categories: NUTRACEUTICAL, Pharmaceutical
Sector 1:PHARMACEUTICAL
Sector 2:NUTRACEUTICAL
Supporting Link(s):


https://www.meggle-pharma.com/en/downloads.html