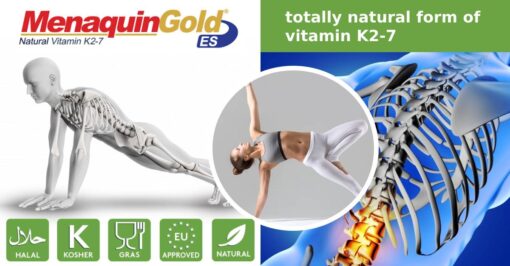 MenaquinGold®
MenaquinGold®, a totally natural form of the recently discovered vitamin K2-7 (menaquinone) is now available. This natural form has:
Superior bioavailability
Guaranteed stability
Longer half-life, which results in more stable serum concentrations
Other points to note:
K2-7 is along-chain form of menaquinone
It is produced via a deep tank fermentation process with a non-genetically modified GRAS organism in a dedicated GMP facility
Available in several grades including water-soluble powder
New clinical research results show natural vitamin K2-7 has even greater benefits, with it now also showing it can assist Diabetic Neuropathy.  Read an article about the benefits here.
MeaquinGold®, is the most-researched natural vitamin K2-7 in the world. Read more about its applications by clicking here.
It is natural, kosher, halal, GRAS and EU approved.
Download MenaquinGold® brochure
Category: Vitamin
Sector 1:NUTRACEUTICAL
Sector 2:PHARMACEUTICAL
Alternate Name: Natural Vitamin K2-7 menaquinone
Health Benefits: For effective calcium utilisation and metabolism
Supporting Link(s):


https://www.menaquingold.com/