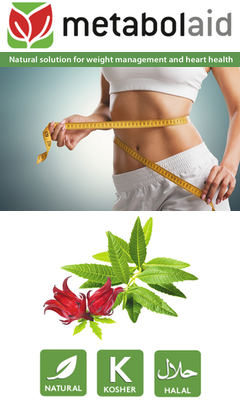 Metabolaid
Metabolaid is a unique combination (patent protected) of hibiscus and lemon verbena extracts sourced using a natural process.
Metabolaid improves metabolic health by supporting the body's natural energy levels over the other sources so it is an efficient user of body fat. This helps to:
Maintain a healthy body weight and waistline
Promote a healthy cholesterol profile
Support healthy blood pressure parameters
Maintain healthy blood glucose parameters
It is also important to note that Metabolaid activates the AMPK pathway, responsible for decreasing lipid accumulation in the adipose tissue and liver.  It's ability to assist with weight management has been tested using a DEXA scan.
More than 7 years of scientific research has gone into the initial development of Metaboloid. It is also supported by several clinical studies compared to placebo-controlled groups.  More details are available by contacting a TransChem account manager.
Metabolaid is available as a powder, in tablets or capsules. It is natural, kosher and halal certified.
Categories: Men's Health, NUTRACEUTICAL, Sports Nutrition, Weight management, Women's Health
Sector 1:Nutraceutical
Supporting Link(s):


https://www.monteloeder.com/en/metabolaid