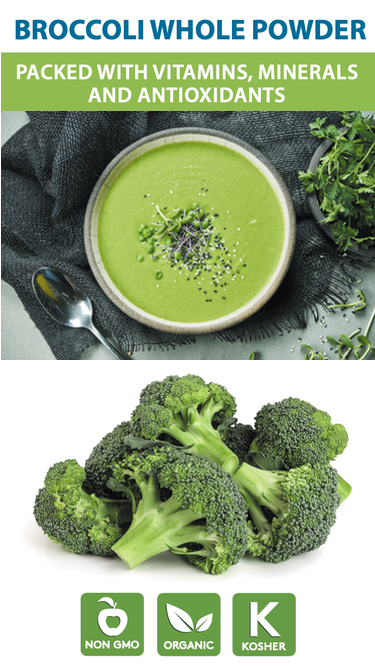 Broccoli Whole Powder
Broccoli Whole Powder is field-fresh broccoli which is sorted, washed, trimmed, blanched, and air-dried, followed by various cleaning, sorting, and food safety steps, prior to cutting or milling into the desired cut size. It is packed with vitamins, minerals and antioxidants.
The advantages of using Broccoli Whole Powder include the fact that it is low in fat and high in soluble fibre.  It provides protein and is packed with phytochemicals, high levels of folate, calcium, potassium, vitamin C and pyridoxine.  Its potent antioxidants provide health-protective benefits.
The applications for using Broccoli Whole Powder include; seasoning blends, salad dressing, sauces, soups, pasta and rice products, chips and snacks, cheese and dairy products and ready meals.    It is certified as non-GMO, organic and kosher.
Categories: dairy, pasta, ready meals, rice, salad dressing, sauces, seasoning blends, snacks, soup
Sector 1:Food and Beverage
Supporting Link(s):


https://npnutra.com/wholesale-broccoli.html

https://silva-intl.com/products/broccoli