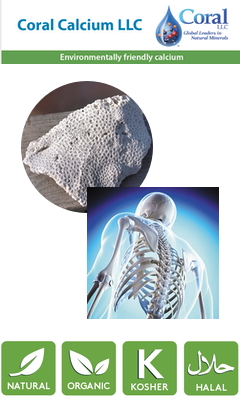 Coral Calcium LLC
Coral Calcium LLC is a pure natural forming Calcium derived from fossilised coral in the Caribbean which is free of ocean pollution.  Coral LLC use environmentally friendly harvesting practices and Eco-Safe above-sea coral only.  They are the largest US supplier of EcoSafe Coral Calcium Powder – owning a portion of the mine as well as the processing plant, guaranteeing the quality and integrity at each stage
Interesting information about Coral Calcium LLC:
Has some of the highest levels of elemental calcium ranging from 35-40%, compared to other forms of Carbonate from limestone and algae
Includes 73 trace minerals making it extremely bioavailable to the body
The purity means sterilisation occurs at lower temperatures, where competitors may suffer degradation of nutrients
20,000 patients have been used in case studies to reflect the effectiveness of the bone density therapeutic results of Coral Calcium LLC.
It is available as tablets, capsules or powder.  It is certified natural, organic, kosher and halal.
It has many applications (listed below) as well as water enhancement and agriculture.
Categories: Cosmetics, Men's Health, NUTRACEUTICAL, Women's Health
Sector 1:Nutritional supplements
Sector 2:Men's + women's + children's health
Sector 3:Cosmetics
Supporting Link(s):


https://coralcalcium.com/