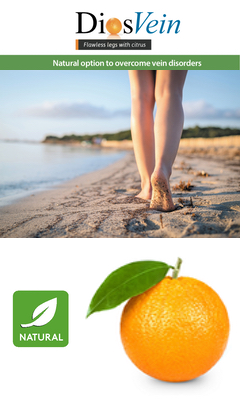 DiosVein
DiosVein is a flavonoid diosmin from hesperidin obtained by extraction from citrus sources such as sweet orange.  It consists of 90% diosmin and 10% other flavonoids.  It is worth noting that the production and manufacturing process follow the highest quality standards.
DiosVein has been proven to be effective in cases of venous insufficiency rapidly improving leg heaviness, cramps, discomfort and evening oedema.  The benefits include:
Improves blood flow
Supports blood vessels integrity
Health benefits related to vascular problems such as swollen legs or spider veins and haemorrhoids
Supports cardiovascular health
Supports antioxidant activity
DiosVein is currently available only for export, but please contact our account managers to confirm the status and the options available to you.
DiosVein is the natural option to overcome vein disorders!
Categories: Men's Health, NUTRACEUTICAL, Women's Health
Sector 1:Nutraceutical
Supporting Link(s):


https://www.ferrer.com/ferrer-healthtech/diosvein