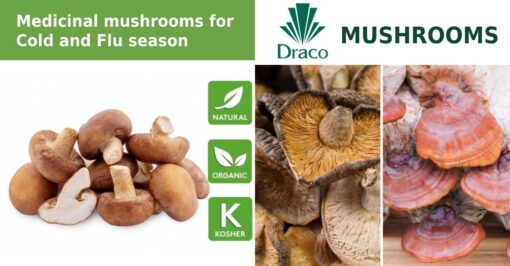 Draco Mushrooms – Shiitake
Draco Mushrooms include Shiitake (Lentinula edodes) mushroom extracts which are nutrient dense, bioactive botanicals. They have a number of uses including for medicinal use in cold and flu products.
The advantages of using Shiitake mushroom extracts include:
Supports healthy cholesterol levels
Assists cardiovascular health
Promotes a healthy immune response
Assists normal blood pressure
Promotes liver health
Organic
Kosher
They are an excellent source of:
Potassium
Zinc
Manganese
Copper
Selenium
Niacin
Pantothenic acid
Vitamin B6
Vitamin D2
Phytocompounds
Studies on medicinal mushrooms are very promising and have found them to be a source of anti-viral bioactives, in addition to their well known ability to boost immunity.
Categories: Dietary Supplements, NUTRACEUTICAL, Superfood powder
Alternate Name: Lentinula edodes
Supporting Link(s):


https://www.draconatural.com/2017/09/25/1645/