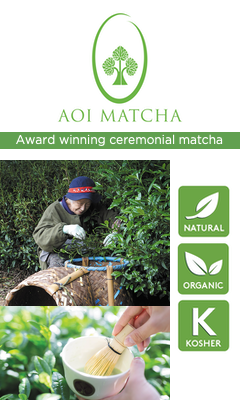 AOI Matcha
AOI Matcha is the world's leading Japanese manufacturer of ceremonial organic and conventional matcha green teas.  AOI matcha have been using their traditional techniques for over 100 years.  It is carefully grown, meticulously processed and graded by experienced tea sommeliers.
The advantages of AOI matcha include:
L-Theanine, the secret of the zen monk's focus calm alertness
Natural source of Vitamin C, soluble and insoluble fibre
Caffeine, unlike coffee, is consumed slower because of L-Theanine
Antioxidants – matcha includes over 100 times (EGCG) more than standard green tea
The matcha is a vibrant green colour and has a velvety smooth feel
The AOI range includes an award-winning ceremonial matcha through to other cost-effective bulk tea options.
Matcha tea is available as capsules, tablets and powder blends.
Categories: Food & Beverage, NUTRACEUTICAL, Sports supplements
Sector 1:Antioxidants
Sector 2:General health
Sector 3:Sports nutrition
Supporting Link(s):


https://www.aoimatcha.com/