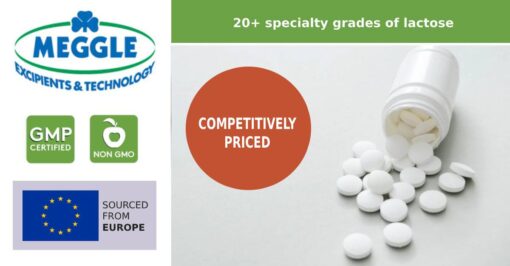 FlowLac 100®
FlowLac®100 is a most reliable, stand out lactose grade.  This standard grade spray-dried lactose is competitively priced and suitable for use in low to medium dose DC formulations, and formulations with poorly flowing API's.
It is sourced from Europe and has a number of advantages when compared other lactose grades including:
Superior flowability
Excellent compactability
Low hygroscopicity and high stability
Fast disintegration times
FlowLac® is suited to use with:
Low to medium dose DC formulations
Poorly flowing actives
Chewable tables
Effervescent tablets
Capsule and sachet filling
It is non-GMO, GRAS and GMP certified as well as TGA approved.
Meggle has more than 60 years experience particularly in creating excipients for granulating and capsule filling.  Their lactose range includes different product groups with more than 20 specialty grades.  Meggle produces high-quality products which are offered exclusively in Australia and New Zealand through TransChem.
Categories: dairy, Excipient, Excipients, NUTRACEUTICAL
Sector 1:Nutraceutical
Sector 2:Food & Beverage
Supporting Link(s):


https://www.meggle-pharma.com/en/lactose/10-flowlac-100.html