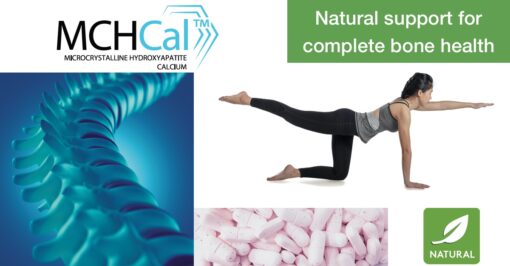 MCH Cal™
MCH Cal™ is a natural ingredient supplying multiple bioactives that support overall bone health.  It has 22% calcium, helping to meet daily nutritional requirements where dietary deficiencies exist.
The advantages of MCH Cal™ include the fact that the gentle, proprietary, manufacturing process (using 100% New Zealand sourced ingredients) preserves the naturally occurring bioactives.  It also contains a range of trace minerals as well as glycosaminoglycans found in naturally healthy bone formation.
MCH Cal™ is manufactured from free-range, pasture-fed and BSE-free cattle.
Published scientific research supports MCHA.
Available in capsules, tablets and sachets.
Categories: Animal Supplements, Bone and Joint, NUTRACEUTICAL, Women's Health
Sector 1:Nutraceutical
Supporting Link(s):


https://www.waitakibio.com/products/brands/mch-cal/

https://www.waitakibio.com/wp-content/uploads/2018/11/MCH-Cal-Brochure-vUPDATE-WEB.pdf