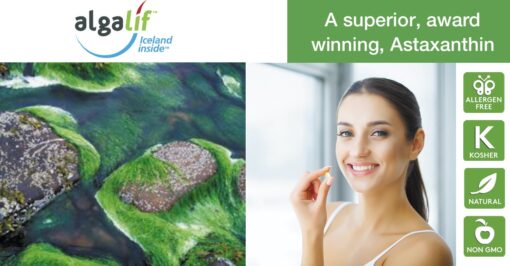 Algalif
Algalifs Astaxanthin is a high-grade microalgae (Haematococus Pluvialis) from Iceland, designed to deliver high yields of premium quality natural Astaxanthin.
Algalifs Astaxanthin is a powerful antioxidant that neutralises free radicals, delivering whole body protection.  It is 6000 times stronger than vitamin C, 5 times stronger than synthetic Astaxanthin, 770 times stronger than Co enzyme Q10, and 100 times stronger than vitamin E.  It allergen free, kosher, natural and non-GMO.
Some other interesting facts include:
it is made with 100% pure Icelandic glacial water
it contains a high ratio of pure Astaxanthin content to other carotenoids
it has one of the lowest heavy metal profiles in the industry
there are high levels of Astaxanthin content in the dried algal biomass (up to 6%)
It can benefit products looking to assist:
Cardiovascular health
Skin health
Eye health
Healthy ageing
Cognition
Sports Performance
Muscle endurance
The benefits of Algalifs Astaxanthin are supported by extensive scientific research and multiple clinical trials.  Contact our account managers for access to the details.
Algalifs Astaxanthin is available in tablets, soft and hard gelatine capsules.
It was the Winner of the Natural Ingredient of the year for Healthy Ageing at the 2018 Nutra Ingredients Asia Awards.
Categories: Men's Health, NUTRACEUTICAL, Sports supplements, Women's Health
Sector 1:Healthy ageing
Sector 2:Cognition
Sector 3:Sports performance, muscle endurance
Alternate Name: Haematococus Pluvialis
Supporting Link(s):


https://algalif.com/