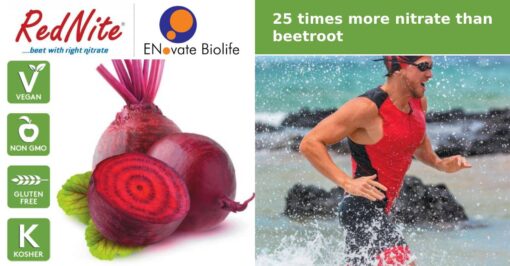 RedNite®
RedNite® is the first fresh beetroot concentrate powder, which is high in nitrates and clinically proven to improve exercise performance and endurance in athletes.  It has 25 times more nitrate than beetroot.
The advantages of RedNite® include:
Water soluble
May increase exercise performance and tolerance
Can boost stamina and endurance in athletes
Potential to help maintain brain and cardiovascular health
Contains 1.5% to 2.75% natural nitrate
With its dark red colour and pleasant mild sweet taste RedNite® is a valuable source of dietary nitrates compared to vegetables.  It has been developed over 4 years to achieve standardised nitrates and antioxidants.  Grown with a specific seed variety ENoVate Biolife used a solvent free extraction from fresh farm juice.  This enables them to deliver a natural nitrate with betalains and polyphenols.
Details of a double-blind placebo cross-over trial to support RedNite® are available on request.
Certified as vegan, non-GMO, gluten-free and kosher, it is available for use in tablets, capsules and sachets.
Categories: Men's Health, NUTRACEUTICAL, Sports Nutrition, Women's Health
Sector 1:NUTRACEUTICAL
Supporting Link(s):


https://enovatebiolife.com/our-range/rednite/