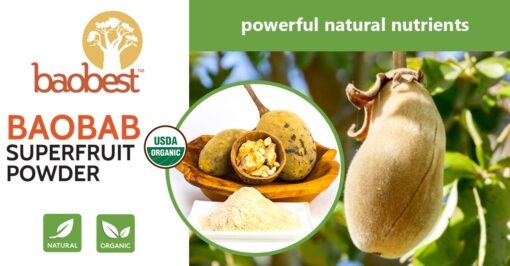 Baobest Fruit Powder
Baobab powders and bites – powerful natural nutrients!
Baobab is known as the "Queen of Super-fruits" and boasts an unparalleled nutritional profile, naturally bursting with fibre, essential minerals, electrolytes and antioxidants that promote a powerhouse of health benefits. It has 10 times the antioxidants bioavailability versus blueberries, goji berries, acai or pomegranate, making it one of the most nutritious super-fruits on earth. It naturally dehydrates inside the fruits of the African Baobab tree, so no freeze-drying, heat extracting of pasteurisation is required to produce the powder.
The advantages of Baobab include:
Contains fibre (50%), electrolytes and antioxidants
Six times the vitamin C of oranges
Available as a versatile powder
High amino acids profile
It is also available as Baobites™, which come in a range of flavour-packed chewy morsels with organic baobab fruit powder, fruit concentrates and pectin
Suitable for juice smoothies, nutrition bars, cereals, cakes, muffins, granola clusters, functional foods, sports drinks, nutritional supplement powders, adding some zing to trail mixes or salads, covering with chocolate.