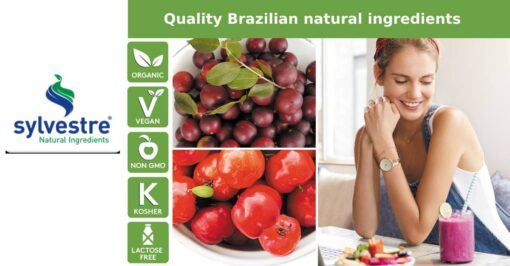 Sylvestre
Sylvestre produces natural ingredients from 100% Brazillian fruit.   They have over 25 years specialising in developing and manufacturing high quality, innovative dry or liquid extracts for the nutritional, dietary supplement, food, functional food and beverage industries.
The key powders and extracts that are available from Sylvestre include:
Acai
Acerola
Camu Camu
Yerba Herb
Tamarindo
The advantages of using Sylvestre's natural products include:
Source of antioxidant
Source of vitamin C
Soluble
Adds flavour, colour and nutritional value
Storage friendly
Extended shelf-life
Sylvestre is certified as organic, non-GMO, vegan, kosher and lactose-free, making it ideal for smoothies, fruit juices, energy drinks and functional foods.
Categories: energy drinks, Food & Beverage, fruit juices, functional foods, smoothies shakes
Sector 1:Food & Beverage
Supporting Link(s):


http://sylvestre.ind.br/en/