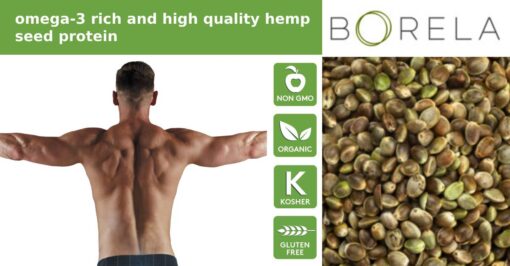 Borela – Hemp Seed Protein
Borela Hemp Seed Protein is a plant-based alternative to whey protein for people who participate in sports, as well as an irreplaceable source of protein for vegans and those who eat raw foods.
The advantages of Borela Hemp Seed Protein include:
Contributes to the growth and preservation of muscle mass, maintenance of normal bones and normal blood pressure
Low in sugar, very low in sodium/salt, and high in fibre, protein, vitamin D, vitamin E, and is a source of omega-3 fatty acids
as well as being high in unsaturated fat
Contains 48.5 – 51g of protein in 100g product (high protein source)
Smooth, velvety texture
No cross-contamination from conventional grades
Full amino acid profile available
High quality
Produced only from certified organic cannabis seeds grown in Baltic (EU) organic farms, Borela monitors and controls the process from selection to distribution with full traceability.
Available as a powder, this hemp seed protein is kosher, organic, gluten-free and non-GMO.
Categories: General health, NUTRACEUTICAL, Sports Nutrition, Vegan health
Sector 1:Nutraceutical
Supporting Link(s):


https://www.borela.eu/production/organic-hemp-seed-protein/