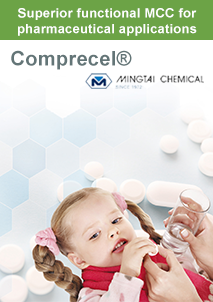 Comprecel®
Comprecel® is an excipient that is a unique and versatile key ingredient, widely used as a strong binder/filler/diluent/disintegrant in tablet and capsule formulations in direct compression, dry granulation or wet granulation process.
MingTai has been a quality-approved vendor for over 20 years.
Ideal excipient for tableting
This high-grade range from the world leader offers a number of advantages:
• Excellent compressibility that allows for high
tablet hardness at low compression pressure
• High dilution potential
• Optimum range of particle size distribution
• Low coefficient of friction
• Good flowability
• Fast disintegration
• Strong dry binder
• Inherent lubrication, anti-adherent and
absorbent properties
• Superior physical and chemical stability
Comprehensive range:
Available in several grades including:
• MCC 101 (wet granulation)
• MCC102 (direct compression)
• MCC112 (low moisture grade)
• MCC200 (coarser particle size)
• MCC301 (higher bulk density)
We carry these as stock items, so they are always available.
Documentation:
The product range is fully supported by a complete document package and samples of all grades are readily available.
More detailed information is available on our flyer.
Download product brochure.