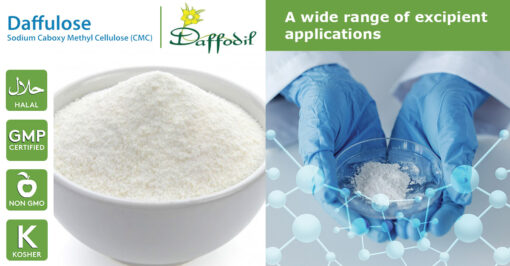 Daffulose
Daffulose is a sodium caboxy methyl cellulose (CMC) or an anion type of cellulose with a wide range of excipient applications.
The advantages of using Dafullose include:
Superior tablet disintegrator
Can be used in wet granulation and direct compression
Effective even at lower consumption levels
Insensitive to tablet hardness
Better water absorber/retention particle suspender
Good thickening, suspending and emulsifying properties
It is easily dispersed in water giving colloidal solutions
Daffulose is available as a powder in BP/USP grade and with differing viscosity grades.  It has been certified as non-GMO, GMP, kosher and halal.