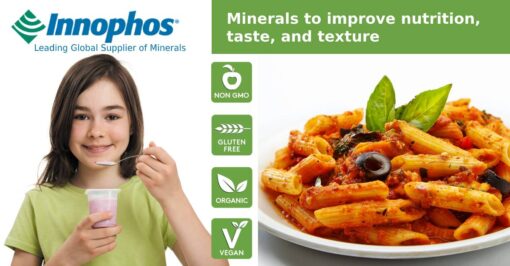 Innophos
Innophos™ is a leading global supplier of minerals with more than 40 years of commitment to innovation, excellence and safety.  Their minerals improve nutrition, taste and texture.
The Innophos™ feature ingredients/minerals include:
Calcium
Zinc
Magnesium
Selenium
Certified as organic, vegan, non-GMO and gluten-free, each of their minerals have a number of advantages ranging from:
Good for bones and teeth
Boost immune system
Reduces tiredness and fatigue
Hair and nail health
Greater stability and solubility
Increased bioavailability
Better taste
Innophos™ minerals are suited for; biscuits, bread, breakfast cereal, cereal flour, pasta, dairy (cheese yoghurt, milk, butter), fruit juice, vegetable juice, fruit drink, cordial, soup, formulate beverages.
Categories: bakery, biscuits, cereal, cordial, dairy, Food & Beverage, fruit drink, fruit juices, pasta, soup
Sector 1:Food & Beverage
Sector 2:Nutraceutical
Supporting Link(s):


https://www.innophos.com