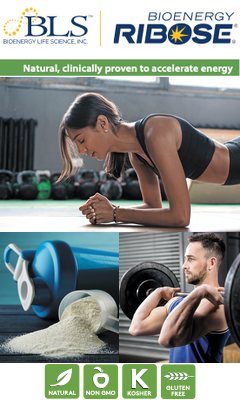 Ribose
Bioenergy Ribose® is a unique 5-carbon carbohydrate sourced from the USA.  It is a natural functional ingredient delivering a unique way to restore and sustain energy at the cellular level.
Ribose® is supported by many U.S. and European clinical studies, which are available on request.  The advantages include:
Supporting heart health
Helps maintain healthy circulation
Assists with faster recovery from workouts
Reduces muscle stiffness
Provides greater endurance
Promotes healthy mitochondrial structure
Highly soluble in hot or cold solutions
Slight sweet taste
Ribose® is a naturally occurring 5 carbon monosaccharide which does not raise blood sugar – making it a good carbohydrate.  It can be used as a standalone product or added to others.  It is labelled as natural, kosher, non-GMO and Gluten-Free.
It is available as a powder.
Categories: Dietary Supplements, Food & Beverage, NUTRACEUTICAL, Sports Nutrition
Sector 1:Nutraceuticals
Sector 2:Food & Beverage
Supporting Link(s):


https://www.bioenergyribose.com