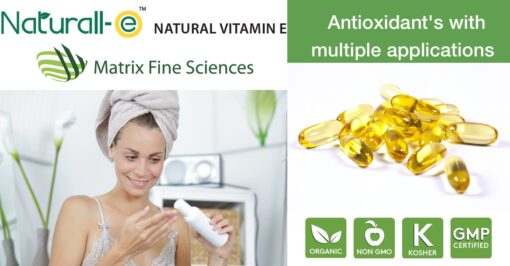 Naturall-e™
Naturall-e™ is a natural Vitamin E from 100% non-GMO Sunflower or Soy sources.  They are antioxidant's with multiple applications.
The advantages of using Naturall-e™ include:
Shows 100% biological activity (compared to synthetic vitamin E which has a mere 12.5% bio-availability)
Increases the shelf life of products
No threat of allergic reactions
Allows you to label products – 'Natural Vitamin E'
There is full traceability to the source
Naturall-e™ is available in mixed tocopherol, d-alpha tocopheryl acetate or succinate forms.  It can protect the body from free radical damage which is responsible for blood vessel diseases, cancer and other life-threatening conditions.
It is available in oil or powder options.  Naturall-e™ is suited for capsules, soft gels, tablets, liquids and creams.  It is certified as organic, non-GMO, Kosher and GMP.  It can be used in organic food and nutritional supplements.
We have more ingredients available from Matrix Fine Sciences
Categories: Cosmetics, Food & Beverage, NUTRACEUTICAL, nutritional supplements, organic food, Pharmaceutical
Sector 1:Nutraceuticals
Sector 2:Pharmaceuticals
Sector 3:Personal care products
Supporting Link(s):


https://matrixfinesciences.com/antioxidants.php

https://matrixfinesciences.com/Handbook_MFS.pdf