Nutraceutical Powders & Fluid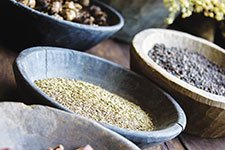 With the growing awareness of health and wellbeing, consumers have become selective about the foods they consume.
One choice is functional food, an enriched food having ingredients above its basic nutritional properties. A popular example is yoghurt. Regular consumption of functional foods is beneficial to health.
Food components that give health benefits are basic nutrients (protein, carbohydrates and fat), bioactive compounds (vitamins, minerals, amino acids, omega-3 fatty acids, peptides, etc) and compounds relating to sensory appeal (flavours, organic acids, etc). The bioactive compound could be derived from its natural source, for instance plants/vegetables, microorganism and algae, to result in a product known as a 'nutraceutical'.
The term nutraceutical was introduced by Stephen DeFelice, MD, founder and chairman of the Foundation for Innovation in Medicine (FIM) Cranford in 1989. It originated from "nutrition" and "pharmaceutical", and is defined as "a food or part of it that gives health benefits, prevention, and treatment of disease". An example of a nutraceutical is curcumin, a bioactive compound derived from the turmeric plant and known as an antioxidant. When a nutraceutical is added into food, the results is functional food.
As it is derived from natural sources, nutraceuticals inherit properties from the mother plant. However, the challenge is that production relies on its original concentration. The concentration and the bioactive compounds need to be separated from their original source by a chemical process known as extraction. Solvent, pressure, microwave, ultrasound and enzymatic-assisted extraction can be applied in nutraceutical production.
The extracted bioactive compounds may degrade during manufacturing, storage, distribution or consumption and cause the compounds to become less active. To prevent this microencapsulation is applied. This is a process that traps and immobilises the bioactive components within a secondary material that will delay release under specific conditions. Some methods of encapsulation are freeze drying, spray drying, spray cooling, emulsion, liposome entrapment, inclusion complexion, etc. As the result, nutraceuticals are available in many forms including powder and liquid.
Trans Chem has an extensive network of overseas suppliers, some exclusively, and attend all International Trade shows constantly sourcing new and innovative products and suppliers, so if you can't find the raw material you need in our Product Library, contact us and we WILL source that product for you.
Aside from APIs, Trans Chem actively sources Amino Acids & Vitamins, Chelates & Minerals, Cosmetics & Personal care ingredients, Excipients, Food & Beverage ingredients, Stockfeed & Animal Nutrition, Nutraceutical powders & fluids, Veterinary Pharmaceuticals & Animal Health, Herbal Extracts and other key ingredients.