Stockfeed & Animal Nutrition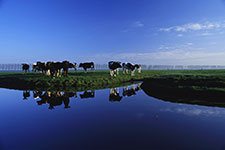 Good nutrient in food is needed for animal growth and development. Livestock needs high quality stockfeed as healthy and productive livestock results in good profit and return on investment.
Animal feed should contain nutrients in descending order of: energy – protein – phosphorus – sulphur – sodium – calcium – vitamins – trace minerals. There are about fourteen minerals required for ruminant livestock. They are macro minerals (Ca, P, Cl, Mg, K, Na, S) and micro minerals (Co, Cu, I, Fe, Mn, Se, Zn). The nutrients are needed in large amounts for growth, while minerals are needed in small amount to assist metabolism. The requirement varies depending on age and genetics. Young animals need more minerals for growth and some species of livestock are more susceptible to certain minerals than others.
Traditionally, the minerals are supplied naturally at pasture. However, the availability of minerals could be depleted by climate change, soil composition, or vegetative composition of the pasture. These will cause imbalance between mineral supply and demand. When deficiency occurs, supplements are needed to ensure livestock growth and development.
There are proteinates and chelates in animal feed. Proteinates are substances containing amino acid bonds, while chelates are minerals (usually copper, zinc, manganese, iron) combined with a mixture of amino acids and peptides. Stockfeed containing chelated minerals is claimed to be more digestible than inorganic, thus proviing higher bioavailability. It has been reported that some animals fed with organic minerals in dietary sources showed improvement in their growth, immunity and production.
Other than providing minerals to livestock, a stockfeed could also enhance the digestive process of the intestinal track whilst providing better taste. A tasty and nutrient-rich stockfeed will improve animal appetite thus supporting their growth.
Trans Chem has an extensive network of overseas suppliers, some exclusively, and attend all Trans Chem has an extensive network of overseas suppliers, some exclusively, and attend all International Trade shows constantly sourcing new and innovative products and suppliers, so if you can't find the raw material you need in our Product Library, contact us and we WILL source that product for you.
Aside from APIs, Trans Chem actively sources Amino Acids & Vitamins, Chelates & Minerals, Cosmetics & Personal care ingredients, Excipients, Food & Beverage ingredients, Stockfeed & Animal Nutrition, Nutraceutical powders & fluids, Veterinary Pharmaceuticals & Animal Health, Herbal Extracts and other key ingredients.